License International
A Multi-genre Study on the Scale of the Industry
Sales Overseas are on the Rise
To actively pursue them change is needed in the production partnership
Writer: Tetsuya Watanabe
Record high sales at 767.6 billion yen
According to the 2017 Anime Industry Report (The Association of Japanese Animations), which calculated the scale of anime industry based on money spent by its users, sales of Japanese animations to overseas users have risen by 131.6% in comparison to the previous year. This equaled a record high in sales at 767.6 billion yen. [See Table 1]
[Table 1] A Broad Review of the Overseas Anime Market

In addition, according to the licensing section of Toei Animation Co., Ltd. financial documents, the sales of licenses overseas in comparison to the Japanese market has risen from 1:9 scale at the end of the fiscal year 2013 to 4:6 as of the end of the fiscal year 2017. To put this into numbers, this is a substantial increase equaling 7,520,000,000 yen. What is especially amazing is the rate of growth over the past 3 years. This can be mainly attributed to the so-called "binge buying" of Chinese digital distributors. In addition to this, however, the creation of games and sales of products based on older series as a way of reusing them can also be counted as a contributing factor to this new development and sales increase. [See Table 2]
[Table 2] Toei Animation Shift in domestic and overseas licensing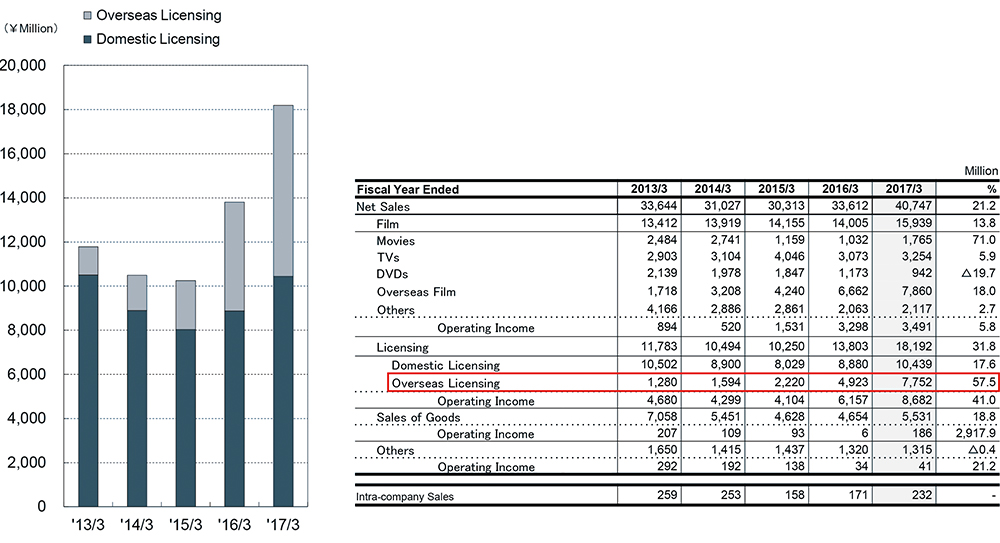 Source: Toei Animation Co., Ltd. 2017 sales figures at end of fiscal year
The animation being sold overseas comes in a wide range of diversity. It includes everything from series aimed at kids and families such as "Pokemon" "Yokai Watch" "One Piece" and "Detective Conan" to those with high appeal to the general public such as "Attack on Titan" to even those of the moe and BL genres which are aimed at only the most enthusiastic of fans. Thinking of "Pokemon" as the means to Japanese animation branching out overseas is now thinking in the past. The needs of users overseas, and even the type of users themselves, grow more diverse with each passing year.
One successful example of recent that can be offered up is "Yuri!!! On ICE". Irrespective of the fact that it was a sports anime with its base in figure skating and that it was broadcast in the midnight slot in Japan, it gained the attention of everyone from otaku to casual fans to figure skating fans and became a huge hit. This popularity was echoed even more so overseas. It logs over 10 million views the North American streaming service Crunchyroll. On the Chinese streaming service YoukuTudou it showed its popularity by earning over 600 million views. With each new TV broadcast or episode streaming figure skaters from around the world spoke about it on social media, gaining it support from even those who previously had no interest in Japanese animation.
One example that comes to mind of a Japanese sports anime that gained popularity overseas in the past is "Captain Tsubasa", a soccer-based story that was made into an anime in the 1980s. There are a myriad number of soccer players in Europe and South America who had the desire to become a professional player after watching this animation. The combination of sports and anime may indeed be a world full of hidden possibilities in the global market. Despite the fact that overseas sales are expanding on a multifaceted level, Japanese anime programs have not become as pervasive in overseas society as they are within Japan. They are still just "something those Japanese anime fans like." The reason for this being that many anime are based on relatively unknown manga and light novels. While certain series become known through the spread of information on social media, this is nowhere near enough. On the other hand, the fact is that the Japanese-produced anime genre with the most overwhelming support overseas is the one producing high-end otaku-geared series. Japanese animation has secured the unique position of knowing how to focus on its target audience while still being produced at a low cost. It is imperative that it uses this position to conduct marketing in a way to secure customers in the global otaku market.
In this respect, one issue is with the translations themselves. There is a trend among fans in each locality to prefer translations that pierce the core of their otaku hearts over one that is prim and proper. In this respect, unless translation is done by someone well-versed in otaku culture (an otaku themselves) it will be hard for the series to gain support. The development of personnel who can undertake this sort of translation is needed.
The rise of digital distributors changed the market structure
In recent years, the rise of digital distributors has caused great change to the state of overseas anime sales. The turning point came in 2009 when TV Tokyo licensed the digital broadcast of "Naruto" to American digital distributor Crunchyroll. When Crunchyroll was established in 2006 it was largely a source of illegal streaming. However, through its partnership and equity participation with TV Tokyo, the company secured its position as a digital distributor in the global market.
Concerning North America, there is one other digital distributor that is actively promoting Japanese animation. That is Funimation, which was purchased by Sony Pictures Television Inc. in July of 2017.
Netflix, which launched in Japan in 2015, announced a lineup of originally produced Japanese anime titles in August of 2017 and currently being digitally broadcast in 190 countries around the world. Excluding TV Tokyo and Tokyo MX, the 12 title lineup is more than any being broadcast on public television.
With the rise of digital distributors, the birth of a new ecosystem in the anime business, one unrelated to the pre-existing media environment, can be expected to occur. This is due to the fact that digital broadcasting, unlike conventional TV broadcasting, is unaffected by the broadcasting conventions that differ from country to country. In many countries outside of Japan, animation is strongly perceived as being "for children" and general public broadcast television stations are view. As a result, animation is broadcast mainly on cable channels dedicated to it. However, anime series aimed mainly at otaku are the most prevalent and do not fit into the mold of a program that can be broadcast on a channel for kids. So it has become mainstream for such series to be broadcast on otaku-geared channels, which are few and thus limit the options in terms of broadcast channels. With digital broadcasts, distributors are free from this limitation.
The Chinese market is one of both possibility and risk
In the field of digital broadcasting, Chinese corporations are also increasingly active. Since the establishment of an exclusive partnership between TV Tokyo and Tudou, digital distributors in China have been on the rise. Some companies which actively purchase and digitally broadcast official Japanese content are the now owned by the Alibaba Group company Youku Tudou, the "Nico Nico Douga of China" bilibili, and the video streaming service iQIYI that is part of the BAIDU group. These are just to name a few.
The fact of the matter is that broadcasting in China (over-the-air, satellite and cable) is heavily censored by the Chinese government and Japanese animation has not been granted one single broadcasting license in the past several years. This of course is one of the biggest factors conducive in the circulation of pirated content in the Chinese market. On the other hand, the digital market is not bound by the same censorship laws and the official release of Japanese animated content has been able to realize a profit.
In addition, businesses that license not only the animation itself but games and other content related to the series have become mainstream in recent years. The Aniplex "Fate/Grand Order" series sold by bilibili experienced huge popularity and following this Bandai NAMCO Shanghai partnered with social networking service Tencent to release an official version of the "Naruto" PC game as well as an online game. Bandai also worked with DeNA's Chinese branch to develop a "One Piece" game for smartphones. The development of games related to anime that is the intellectual property of Japan by Chinese game manufacturers has the potential to keep expanding. [See Table 3]
[Table 3] Development of the Market Scale in the Chinese Gaming Industry

Just as the American company Crunchyroll did in the past, bilibili has begun investing in Japanese media production partnerships. The biggest merit to this is that before a series is even broadcast the translation into each local language is completed and subtitles are added. This means that broadcast is done simultaneously, before pirated versions can be released.
One demerit is that if you look at it from the perspective of the media production partnerships is in turns of profitability; stable profits cannot be automatically assumed when investing in overseas digital distributors. The reason for this being that digital distributors cannot often provide a minimum guarantee of profit to the partnership, thus making it impossible to calculate the amount of profit to be made.
Another risk to doing business in China is not knowing when politics may step in and cause the government to impose new regulations on the industry. In addition doing business comes with the risk of late or non-payment as a likelihood due to differing business practices. China with its large population certainly provides a market full of opportunity, but one can't ignore the fact that it is not necessarily a "brighter future."
3 recommendations when expanding overseas
Regarding the overseas expansion of Japanese animation, here are three problems I see and my suggestions for how to solve them.
The first is the role the production partnership should take.
Here is a simple definition of what a production partnership is. It is a system of production wherein several different companies invest in the production of a piece of work in order to reduce the fallout should a show fail. In truth, many kids and family-geared shows have no production partnership and figuring out who owns the copyright is a complicated matter. In these cases, it is often one of the large production companies that handles the overseas sales of the product. On the other hand, when otaku-geared series are sold overseas it is often one of the companies that makes up its production partnership that handles the copyright sales. The fee for this transaction is usually 30%, meaning that 30% of the overseas sales is taken off the top and given to that company, with the remainder being divided among the partnership members at a rate equal to what stake they had in the project.
In recent years, however, all sales including those overseas are often handled by a separate management company and you can find examples of these types of sales that state a handling fee of around 10%.
The production partnership system has been around for almost 20 years as the ecosystem that manages the distribution of profits for anime broadcast on TV according to the rules, but there are perhaps some aspects of it that are not quite with the times. With a flourishing digital broadcasting industry has come a trend to publish media on a multitude of platforms. With the diversification of the anime industry has come a push towards vertical integration, a business model where all tasks from beginning to end are integrated together in order to be more competitive. The time has clearly come to create some new rules.
In the past, an anime was created by partnering with different enterprises at each level of production in the process. Now, however, there is a trend towards creating synergy in the process by handling all layers comprehensively within one enterprise group. This is done through mergers and acquisitions as well as the formation of new companies. Handling all levels of production within the same enterprise group allows the company to encapsulate all of its strengths and maximize its profits. With this system everything about a project can be commercialized by a single enterprise group. This includes the manga, the anime, the packaging for home release, the game, the merchandise, the 2.5D musical production, the music, the concerts based on it, the voice acting, etc. At this point, rather than needing a production partnership to produce content, the creation of content will be possible via one single enterprise group. This would also allow for a more strategic approach to be taken when handling overseas projects. This factor is especially important now as domestic sales of physical within Japan are seeing a leveling off occur, making the profits that can be made overseas of even greater importance. My prediction is that mergers and acquisitions as well as business tie-ups will become more active of a global enterprise in the near future.
The second factor to consider when expanding overseas is to actively introduce new technology into the process. At present, the delivery of the raw materials for broadcast overseas are delivered in part through online means in a digital format. However, all of this process needs to be digitalized. In an era where simultaneous broadcast is present, speed is absolute key.
There is also gold hidden in user data. With digital broadcasting you can obtain user data such as user profiles and viewing history, data that would be difficult to obtain from a regular TV broadcast. If this data is then shared among those who produce such media, what viewers fancy can be reverse calculated from the data and used to come up with new programs that fit the needs of the market.
Each users specific needs can be recognized and with this anime related goods can be recommended and there is even the possibility of inviting the user to participate in online events. If this is done with users around the world, a global user base can very likely be secured.
Data gathered an also be used to respond to inbound demand. One example of this is in regards to anime series that are unable to be viewed in certain countries due to legal restrictions. When fans from these countries make their "pilgrimage" to Japan, viewing parties can be held that officially show the aforementioned series and experiences related to that series arranged as part of the event.
The third factor that needs to be considered is developing human resources overseas. This is one means to increasing the love of Japanese animation around the world on a long-term scale.
At present, Japan faces a shortage of workers in the animation industry as well as numerous other labor environment related issues, so why not more proactively make use of overseas personnel as a resource? One way of doing this could be to set up vocational schools in countries like Vietnam, Indonesia and Thailand that both teach the Japanese language and train students in animation and anime related business material.
Instead of trying to procure the necessary workforce from within Japan, which is experiencing a decrease in its population size, training a workforce overseas to guarantee the personnel needed in the future may be a valid option. It is certainly an option worth exploring in cooperation with both the government and private businesses of each country.
The above-mentioned training in animation is essential if Japan wants to increase the amount of fans of Japanese produced animation. Although it may seem like a very roundabout way to doing so at a glance, the focus on training has great significance in the long-term. The practice of employing directors who hold citizenship outside of the country in which they are producing their movies has become a common practice in Hollywood. The same may be true of Japan in the future. Finding personnel with expertise that transcends gender and race and creating an atmosphere of diversity is indispensable.
If these three recommendations are followed earnestly, then the idea of reaching sales figures 5 years from now that are three times as high as the 2017 Anime Industry Report, which to put in numbers would mean sales of over 2 trillion yen, is not but a dream. In this era of globalization it is not only important to exhaustively deepen the domestic anime industry, but to also collaborate with a variety of industries and form joint partnerships with said industries including those overseas through each country's government or private organizations. It is clear that creating something of new value is growing ever more important. It is time now for the anime industry to embrace innovation.